Novella&Vignolo oil mill
Genuine by nature
Since 1860
For over 160 years, the Novella&Vignolo oil mill has been passionately working in processing olives, strictly following ancient rules that are handed down from generation to generation.
Campagna olearia 2022/2023, partita! Il Frantoio Novella&Vignolo è aperto per la frangitura conto terzi, ricordiamo a tutti di chiamare lo 0185.74389 per prendere appuntamento o utilizzare il nuovo servizio di prenotazione online cliccando il bottone sottostante "Prenota la molitura".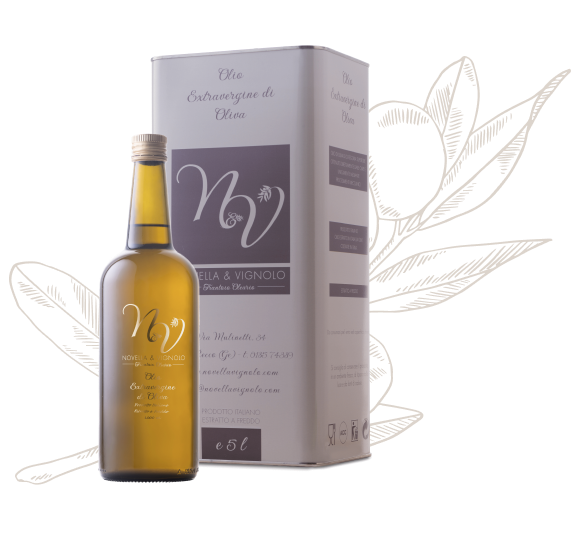 Secure Payment
Pay safely with credit card or a bank transfer.
National and International Shipments
We ship with a trusted courier, our packaging are designed ad hoc.
Extra Virgin Olive Oil 100% Italian in Bottle.
Extra Virgin Olive Oil 100% Italian in Can.
Pickled olives, pate, pitted and other products.
Our Mill
In the Ligurian Riviera del Levante, in the heart of Mulinetti, in Recco, you can still find our family-run oil mill. We produce with passion, knowledge and respect for traditions an extra virgin olive oil with an authentic flavor, unique thanks to its fragrance and genuineness. We have a state-of-the-art plant, fully automated with a three-phase continuous cold extraction methods.
OUR OLIVE GROVES
The Novella&Vignolo family has several hectares of olive groves, planted with cultivars:
Taggiasca, Favolosa, Pinola and Leccino.
Our Family
A history that began over 160 years ago from the ashes of an ancient oil mill and handed down from father to son. We believe in the respect of traditions and the pioneering spirit of our ancestors which has been, over the years, the foundation of our success and which, even today, inspires us every day. The base of our strength is the passion of a family, which still today continues to engage working quality products, transporting the flavors of tradition to the present day.
Selected from
We are in the heart of gastronomic excellence, we have the privilege and honor of being present on the tables of some of the best local restaurants and not only.